It is not surprising anymore that COVID-19, the global pandemic has crashed our celebration plans. And no one can relate better than the students who were graduating this year. The traditional graduation ceremonies are cancelled across the world without any immediate plans for the future.
People should not let the COVID-19 intruder take the fun out of their lives. With planning and innovative ideas, you can honour the graduates and throw them the celebration they deserve. Here are awesome ideas to host the graduation ceremonies at home during such unprecedented times. 
Dress for the part
It doesn't matter if you're having a graduation ceremony at home. You should still dress up in your graduation gown and cap to memorialise the big milestone in your life.
Host an online party with friends
Decorate your room and arrange an online graduation party with your classmates. Celebrate this special day at home with the people who cheered you in every step of the way.
Hold a ceremony at home
Not being able to step out of the home shouldn't drag your spirit down. Have a fun graduation ceremony at home with your family. Decorate the house with balloons and streamers to bring in celebration vibes.
Take photographs
Capture the moments of the most important day in your life. Take and share pictures of yourself in graduation gown and cap with your classmates and relatives.
Surprise with gorgeous graduation bouquets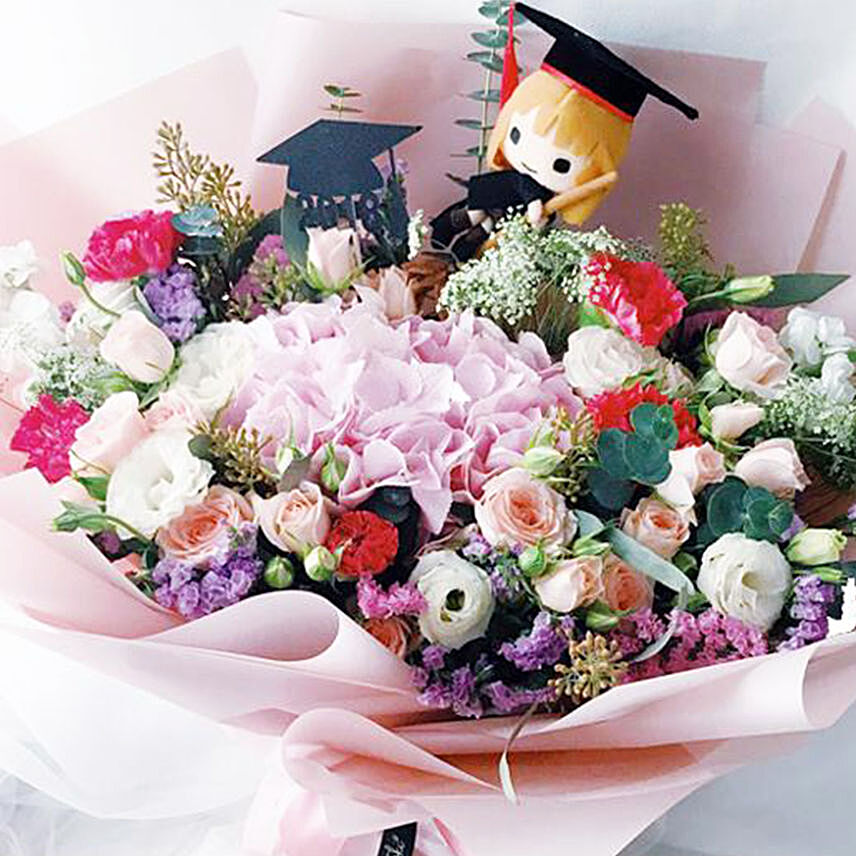 Send online graduation flowers to congratulate your classmates. The gorgeous blooms with brighten their mood during such challenging times and the pleasant fragrance will make them feel your presence around them. 
Cut a cake
A graduation party is incomplete without a cake-cutting ceremony. Order a cake online and get ready to relish it with your family members. 
Play a slide show online
Make a slide show, including pictures and videos reflecting memories and your achievements throughout the school years. Play the slide show during the online graduation party and share it with your classmates. Encourage your friends to add their personal videos, pictures, and messages.
We hope these ideas help you celebrate the graduation ceremony during such hard times and enable you to create everlasting memories.