Everything you Need to Know About January Birthstones
Author:

Anushka

Published:

18th January, 2022
Those who are born in January are blessed with not just one but two birthstones. Yes! While most recognise Garnet as the January birthstone, many might be unaware of the fact that rose quartz is another January birthstone. Said to bring love and healing, wearing any of these is a good way to enter the New Year. Here's everything you need to know about these radiant birthstones.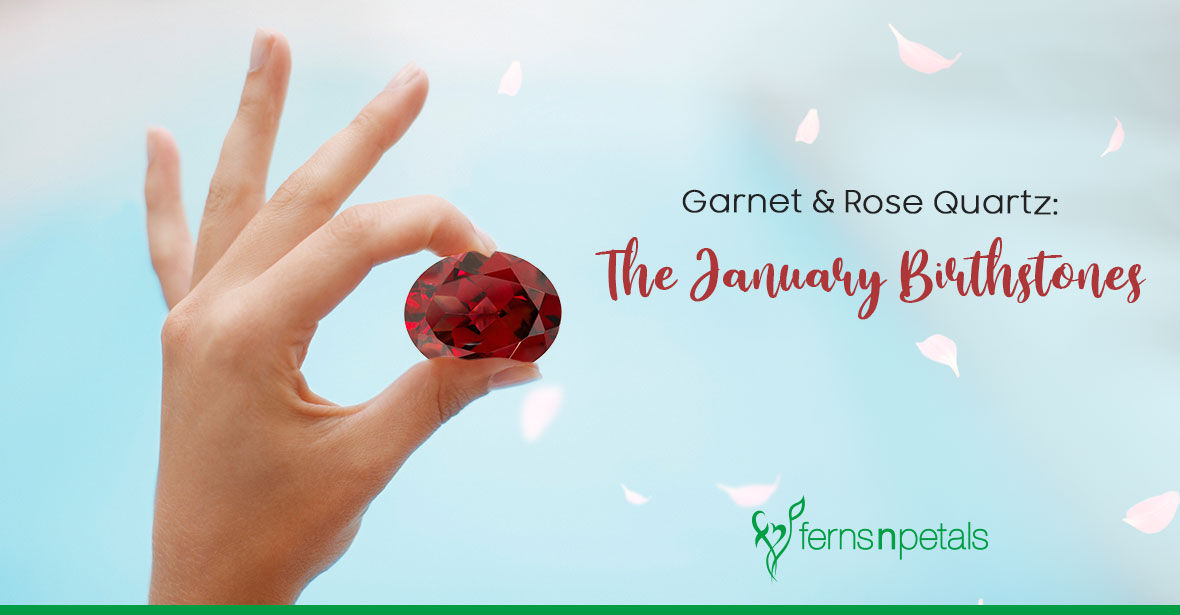 Garnet
Though Garnet is by default deep red in colour, it is also available in beautiful shades of yellow, purple, orange and vibrant green. The name Garnet originates from the 14th century Middle East English word 'Gernet' that was derived from the Latin word 'Granatum' meaning pomegranate. The stone has been used since the time of the Bronze age. Many ancient Egyptians adorned garnet as it was believed to be a symbol of good wealth, health and happiness.
It is also believed that the stone channels positive vibes, eliminates negative feelings, encourages personal growth and instils self-confidence in the wearer. Garnet stone has the strongest presence in the parts of the African continent i.e. Kenya, Madagascar, Namibia and Tanzania. Other areas include Myanmar, Afghanistan, India, Pakistan and Sri Lanka.
Garnet's Facts & Folklore
Some types of garnet have the ability to change colour - no, seriously!
The stone can be used to cut through steel.
During the Victorian era, it was mistaken for glass stones - sorta insulting!
Rose Quartz
Not only is Rose Quartz a January birthstone but also the gemstone of the fifth wedding anniversary. A calming, compassionate stone - Rose Quartz is known as the gemstone of love and promotes romantic love, sexuality and energy. The wearer is known to witness enhanced personal fulfilment and contentment, and a feeling of sharing love. The gemstone is found all across the world including India, Namibia, Russia, Sri Lanka and Japan. Brazil and Madagascar are the hotspots.
Rose Quartz Facts & Folklore
It relieves the wearer from anger, fear, tension, guilt and grief.
It has been used as a token of love starting as early as 600 BC.
The USPs of Rose Quartz crystal stone are self-love, health and heart chakra.