4 Main Types of Marigolds and their Benefits
Author:

Anushka

Published:

14th March, 2022
Marigold is a beautiful flowering annual that is a common houseplant and utilised for decorations, prayers, make-up, food colouring, fabric dying and medicinal purposes. It's an ideal plant that brightens up your space with attractive hues of yellow, orange and red. However, what you may not know is that there are 4 different types of marigolds. In this post, we describe them and their benefits.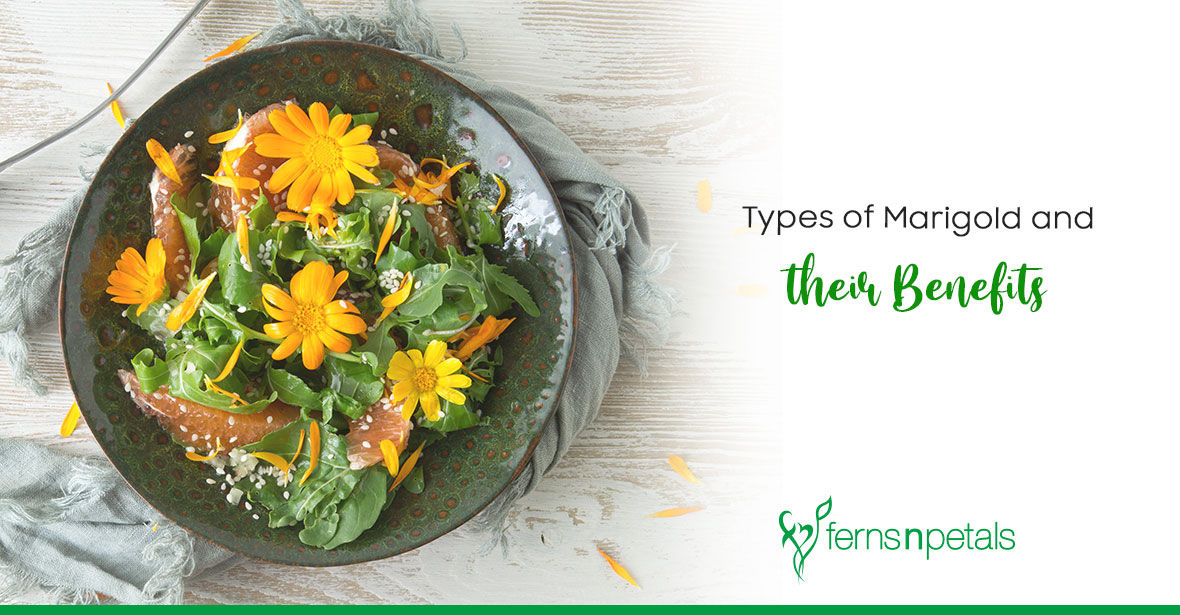 French Marigold
These are very sturdy types of flowers that grow well even in containers, flower beds and window boxes. They are highly preferred for their elegant blooms and bushy look. Also, they can be grown easily indoors and are highly low maintenance. Also, its flowers are commonly used for perfumes and culinary purposes. Some of the benefits of growing this Marigold are:
Since it's small and compact, they can thrive well in window boxes and pots.
Its flowers can be doubled and it can also survive wet weather.
The flowers bloom all through the summertime.
Signet Marigold
Also known as rock gardens or single marigolds, Signet Marigolds are a popular choice among gardeners. Not only are they attractive but also edible. It is used significantly to sweeten or even decorate different eatables such as salad. If you live in an area with a hot and dry climate, Signet Marigold makes a nice choice. However, make sure you do not overwater them or feed them with excess nutrients. Its benefits include:
They have a nice spicy tarragon flavour.
The foliage smells like lemons and thus, spreads a pleasant fragrance all around.
They are everyone's favourite for their appearance, fragrance and edibility.
African Marigold
It's a globe-shaped flower that is found highly in various floral arrangements, decorations and bouquets. It is also known as Aztec or American Marigold and features very large blooms. This type of Marigold grows best in a warm and sunny spot. Some of its well-known benefits include:
Since it carries a strong scent, it is beneficial in warding off animals that can harm your garden.
Compared to French Marigolds, it is more tolerant to dry weather.
It is even used as a medicine, mostly for treating hiccups.
Triploid Hybrids
This one is a cross between African and French types of marigolds. It features large flowers that are bright and multi-coloured and hence, gives you a beautiful garden. Since they have a low germination rate, they can be a bit difficult to grow. Some of the pros of growing one are:
They are highly tolerant and adaptable to different types of climates.
They perform amazingly in warm conditions.
They produce flowers longer than other varieties.