Benefits of Taking Flower Subscription
Author:

Rima Ghosh

Published:

11th October, 2019
Flowers are the simplest yet the most beautiful of all types of gifts. For all kinds of special moments, flowers are the most suitable gift options.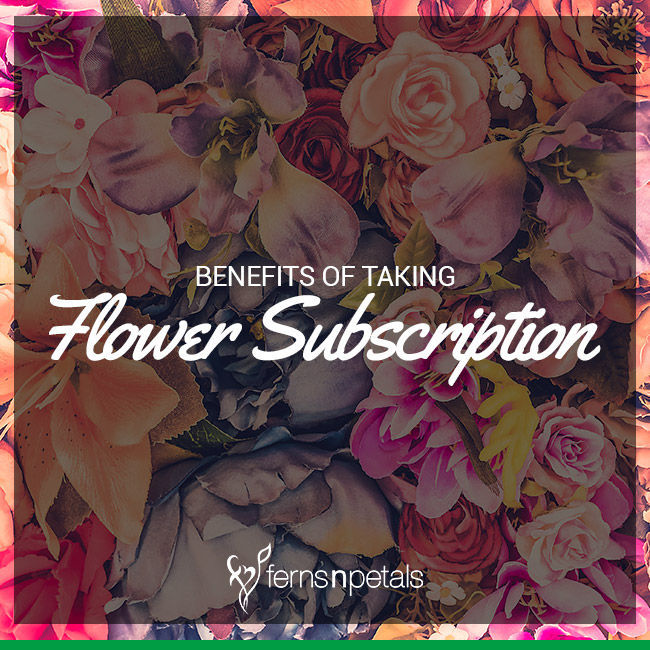 The question may arise, why should one opt for flower subscription? The reasons are stated below:
The Element of Surprise Enlarges:
Loved ones would definitely await a surprise on special days like a birthday, anniversary, Mother's Day, Valentine's Day, etc. But apart from that exact special day, when he/she gets a surprise flower gift – the happiness of the mind simply enlarges. Some people prefer to celebrate a birthday week, anniversary week, or Valentine's Week and for them, it is definitely a great choice.
Time-Saving:
When one has thought to surprise a "special someone" with flowers opting for "flower subscription" will save a lot of time. If the idea is to impress with a stunning flower bouquet twice a week, then, that person has to walk to a store or place an order online twice. But with this subscription, one can just spend hardly 5 minutes of his/her time online to place the order and then relax back.
Well-Decorated Environment:
Nobody hates a well-decorated environment. Studies reveal that when surrounded by flowers, people tend to be calmer, more productive, and happier. It relieves the level of stress and spreads positive energies. So, if ordered by corporate offices, then, there will be happier employees and managers. Those financers or clients who are on a visit to the office would be pleased with fresh and beautiful décor.
Adding Value To Relationships:
There is no end to love and the special people in life deserve special treatment. With a weekly or monthly flower delivery – one would just add more love, romance, dedication, commitment, and loyalty to a relationship. With just a one-time order, one can arrange a delivery for a week, two weeks, one month, one and half months and that would just add more spark to a relationship.
Pre-Planning Is Easy:
For those moments when one knows that he/she won't be available for a certain period, flower subscription would work as a blessing. In his/her absence also there will be flower delivery at the provided address and that would enrich the relationship. So, flower subscription is also for those who pre-plans things and events.