How To Make A Moment Live Forever?
Author:

Apeksha Rawat

Published:

26th June, 2019
"How does a moment last forever?How can a story never die?
It is love we must hold onto
Never easy, but we try"
This beautiful song from the movie 'Beauty and the Beast' expresses best that it is the people and love in their hearts for each other that makes a joyous moment live forever. What matters the most is how people were feeling in that one special moment? That ends up becoming a beautiful memory for a lifetime.
Memories are a special part of existence that defines what people have been through. They can be as small as that of a conversation with a close friend or things said whole-heartedly or as remarkable as something that changed one's life forever. The sweet memories make people smile, cry and grow. The best part about memories is- they give a chance to reminisce good moments that added happiness to the frame of life.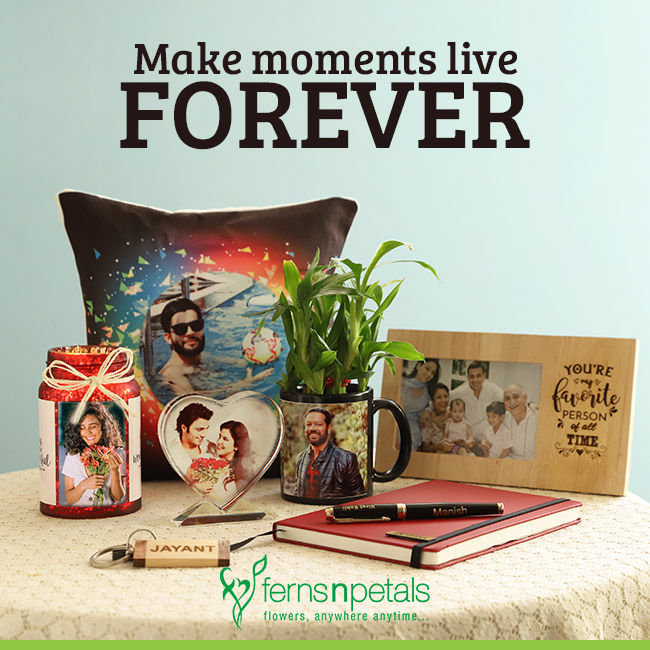 Now Comes The Universal Question Of How Someone Can Make A Moment Memorable For Their Friends And Loved Ones?
The best option is - with personalised gifts. Why? Because they truly epitomize how the sender feels about the recipient, which adds more joy to the celebrations. Personalised gifts are the best ways to turn gift giving into memories by customizing them with the name and picture of the recipient or with a short heartfelt message for them.
Reasons Why Personalised Gifts Make Great Presents:
The personalisation can turn even an ordinary present into something unique and thoughtful that can be treasured forever.
The personalised gifts show the recipient that the sender has taken time to buy a thoughtful present for them.
The meaningful personalised gifts work best for everyone and every occasion.
These gifts allow people to create a special bond with the ones they hold close to their heart.
Personalised gifts are not mere gifts; they are a bunch of memories that people can offer their loved ones on special occasions.

Best Personalised Gift Ideas for Special Occasions

Personalised Mug- A personalised mug would make a perfect birthday or a Friendship Day gift that will allow the recipient to enjoy their steaming tea or coffee in style. With every sip, they'll relive the joyous moments shared with their loved ones over never-ending sessions of tea in the office, parties or during other special occasions.
Personalised Cushion- Love can be expressed in infinite ways. With a personalised cushion, one can offer the comfort of their love to their beloved or partner on romantic occasions like Anniversary or Valentine's Day. It would look gorgeous kept on the sofa or corner of the bed and make the recipient feel emotionally connected.
Personalised Photo Frame- Photographs are the most prized possessions that keep people close to sweet old memories. A true gift of memories adorned with a personal touch, a personalised photo frame would make a fabulous Mother's Day gift that will keep reminding a mother of the magical moments spent with her loved ones.
Personalised Bottle Lamp- The personalised bottle lamp is a charming gift choice that will add the perfect amount of brightness to a loved one's life. The image on the lamp will start to glow once it is switched on and spread love and cheer in every corner of the house.
Personalised Watch- When looking for something unique to gift a friend or family member, nothing can match the charm of a classy personalised watch. A great option to leave a lasting impression on the recipient, it will enhance their personality and allow the personal connection to shine through.

Personalised gifts give the recipient the joy of having their loved ones around even in their absence. These adorable keepsakes are worth cherishing for a lifetime like sweet memories.