Narcissus- The December Flower
Author:

Apeksha Rawat

Published:

4th December, 2019
The narcissus is the official December birth flower that symbolizes sweetness, good wishes, and faithfulness. It is a spring perennial plant that belongs to the amaryllis family, Amaryllidaceae. Narcissus is a bulbous plant with white or yellow flowers with either consistent or contrasting coloured tepals & corona. It is native to southern Europe, North Africa, and the Western Mediterranean. The bulb, leaves, and flowers of narcissus are also used to make medicines that people take for cough, cold, asthma and to treat wounds, burns, and joint pain. Read further to know the interesting history behind the flower's name.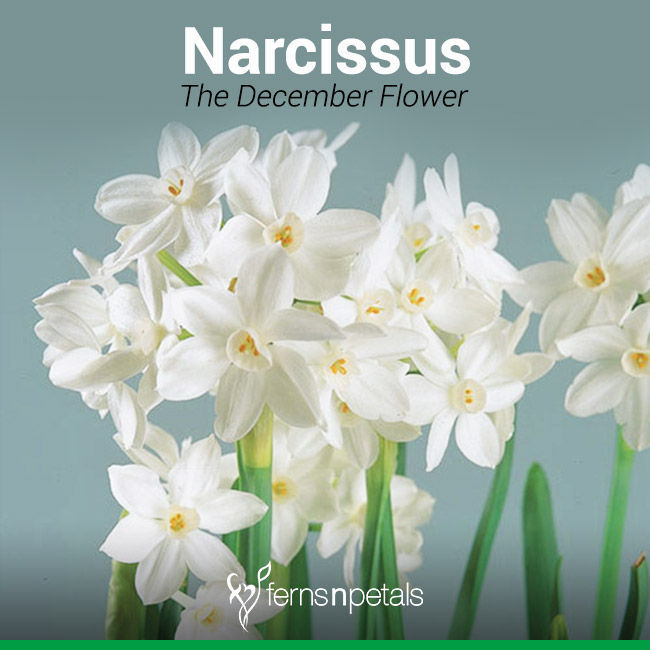 History of Narcissus
Narcissus was a young hunter in Greek mythology who was best known for his attractiveness. He was a beautiful young man who fell in love with himself. One day he saw his reflection in the water and fell in love with it. Narcissus could not put himself away and in an attempt to get a better look, he fell in and drowned. Hence the flower achieved the name from this Greek mythical character called 'Narcissus' because of its perfect beauty.
Read below to learn some interesting facts about Narcissus- the December flower:
People often believe that Narcissus and daffodils are the same flowers. But daffodils falls under the category of narcissus genes that make them a type of narcissus flower.
The Narcissus flower comes with a trumpet-shaped corona, which is surrounded by a ring of petals. It is very poisonous and can be harmful if it is eaten.
The Narcissus flower became quite popular in Europe after the 16th century. By the late 19th century, it was an important commercial crop in the Netherlands.
Narcissus is popularly seen as cut flowers and as ornamental plants in gardens.
In Ancient Rome, these flowers were cherished for their sap, which is known to contain healing properties.
A single Narcissus flower is considered to bring bad luck to the recipient. Instead, a whole bunch or bouquet of these flowers is believed to bring happiness to the recipient.
The bulbs of Narcissus contain a compound called narciclasine, which scientists believe may be effective in treating brain cancer.
Narcissus is one of the most popular flowers in the world and the most popular flower in Germany.
The Narcissus flower is also used as a prime ingredient in perfumes and essential oils.
Some Narcissus species have become extinct over time while others are threatened by increasing urbanisation.