Things To Do For Couples in Singapore
Author:

Gurnika Talwar

Published:

16th June, 2021
Singapore is indeed a gorgeous city that is perfectly balanced with nature's beauty and modern technologies. Whether you are a local or a tourist, you need to be aware of the places and activities that are perfect for couples. Take a look at this list of the 9 best things/activities for couples to do in Singapore for a memorable time.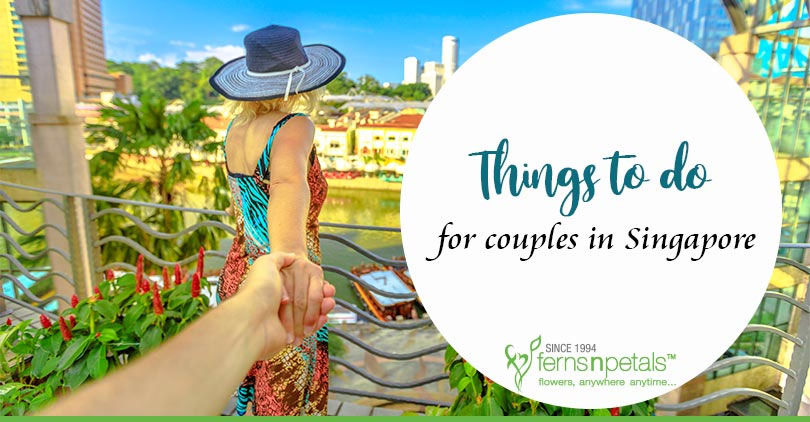 Have a Romantic Photoshoot
It is never too late to have a romantic photoshoot with your beloved partner. Just be sure to pick the right spot for the shoot. You should opt for a professional who knows which location, landmark and setting would suit you two the most.
Visit the Gardens by the Bay
Pay a visit to the Gardens by the Bay during the day or at night to absorb its charm. As it is one of the most popular couple spots, it will be crowder than one wishes for. Walk around the nine zones of the Bay to fully enjoy this one-of-a-kind landmark.
Explore the S.E.A Aquarium
This might be a unique date idea, nevertheless a successful one. Explore the aquarium as the wonders of the sea unfold in front of you. The different types of aquatic animals will surely take your partner's breath away.
Attend a Candlelit Dinner
If you wish to go by the book, the classic and hands-down most romantic thing for a couple is to have a candlelit dinner. Pick a restaurant with dim lightings, classy interiors and a drop-dead gorgeous view of the city for a magical evening.
Indulge in a Spa
Let go of all worries by indulging in a relaxing spa treatment. Opt for the couples massage so that you both can loosen up in each other's company with some therapeutic massages and calming scents.
Attend a Night Safari
Are you looking for a fun night out? The night safari in Singapore takes you on a ride you would remember for your life. It is exhilarating, entertaining and quite suspenseful- things which every couple is looking for.
Go Ice Skating
In the spirit of having fun, join others in the skating rink. Put on our skates and enjoy each other's company while you try to figure out a way to skate without falling. This activity is guaranteed to make you roar with laughter as you play tricks on each other.
Take the Cable Car Ride
It is never too late to admire the beauty of the country. Take a cable ride on a bright pleasant afternoon to watch the fantastic blend of nature with Singapore's latest technology. This ride up in the sky is enough to bring that ounce of thrill in you and your partner while you adore the view.
Book a Private Yacht
If you wish to take things to another level, book a private yacht. This yacht will provide you with an experience of a lifetime that you have only seen in movies. Enjoy the cool breeze of the water while you sip your champagne from the boat with your loving partner by your side.
So, what are you waiting for? Make plans to take your beloved on an exciting journey with you where you dig out the electricity in your relationship in the most romantic way.