Top 8 Anniversary Surprise Ideas for Her
The anniversary is one of the most important days of the year. It is a date to remember, enjoy and celebrate. On this day people plan various surprises for their loved ones. The anniversary is a day when the couple would love to spend some quality time together.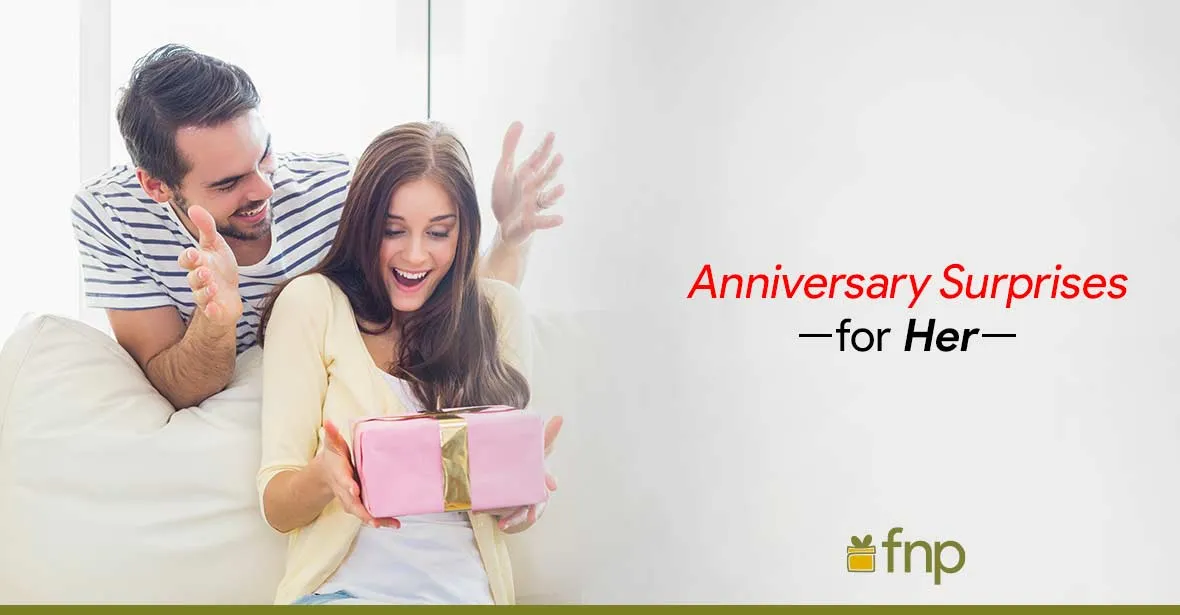 During Anniversary, it is always a great idea to start the day with a love note hidden somewhere from where your loved one can discover it. Certainly, an anniversary celebration will never be complete without a gift for your woman.
But nothing can be better than a lovely surprise for your lady love. Gifts and surprises are bound to make your special woman feel enthralled with happiness, and special. A nice surprise can bring much joy to their world. Surprise ideas can be created and crafted in such a way that they would be able to cherish and rejoice forever.
Jewellery - Gold, silver or even platinum jewellery for anniversary is a heavenly idea. You can eve surprise her with diamonds!
Home decor - You can decorate your bedroom with quality home decor items to surprise her. Choose her favourite colours to make her super happy.
Take her out for romantic dinner - The next preferred choice of surprise would definitely include an exotic dinner under the moonlight or a romantic candlelight dinner. If she loves to party, take her out to a social club.
Plan a secret get together with relatives at home - There are many women who prefer to stay at home and enjoy their anniversary with their husband along with kids and other family members. Invite her favourite people over to dinner and surprise her with simple celebrations like cake cutting, exchanging sweets and chocolates. In general, women are fond of flowers. A bunch of red roses with a little romantic note for them can make them happy to no end!
Take her out for shopping - Women love shopping! Shopping for clothes can be her favourite surprise ever. Many women are also fond of electronic gadgets so you can take her to a store and buy her a brand new mobile phone or if she is a photography enthusiast, you can buy her a camera too.
Surprise her with beauty treats - Take her to the parlour or get her pampered at the spa and feel rejuvenated thoroughly. This would not only make her feel special, but also energize her and make her feel very special.
Take her to her dream destination - Women love to visit new places and any woman would definitely have a dream destination. Get deep into her thoughts and take a note of the place that she would love to visit. You can plan a surprise vacation there.
Cook food for her all by yourself - This is perhaps the best and most romantic surprise for any woman on such a special day, when her forever busy husband takes out time to make yummy dishes for her.
Anniversary Gifts ideas