Why do we have a Shopping Reminder Day?
Author:

Apeksha Rawat

Published:

25th November, 2019
December is the jolly month of festivities that calls for long and busy shopping sessions. Shopping Reminder Day is celebrated every year on 26th November exactly a month before Christmas. This day acts as a reminder and motivation for everyone to start their holiday shopping so that they can avoid the market crowd and stress of last-minute shopping.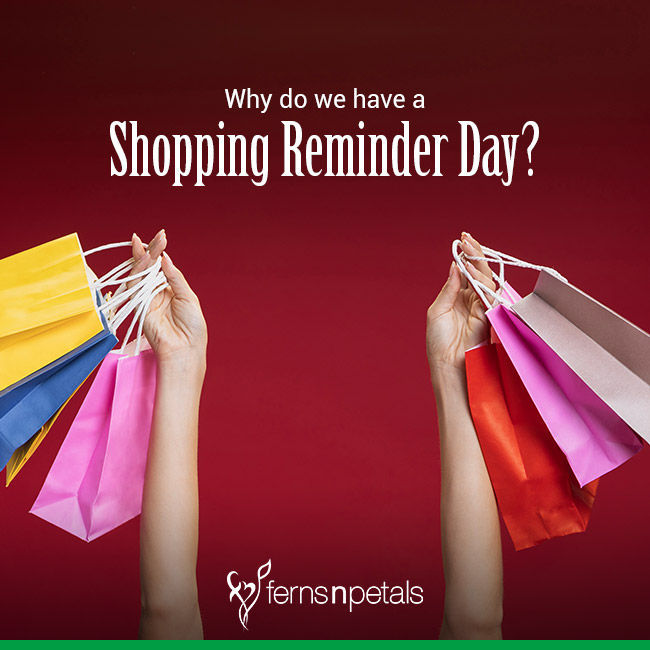 History of Shopping Reminder Day
The exact origin of Shopping Reminder Day is not known. It falls on 26th November when only a month is left out for Christmas. As Christmas has become more commercialized in the 21st century, gift-giving has become a common trend on this special occasion across the world. People often procrastinate their holiday shopping and leave the task for the last moment. Therefore, this particular day is the perfect reminder for people to go ahead and start their holiday shopping. People can observe this day by making a nice list of Christmas gifts they want to give their friends, family, and loved ones. They can also schedule their shopping plans in the next few days or decide how they would put up holiday decorations.
Ways to Create Christmas Gift List:
One should start early and not wait until December to start thinking about the Christmas gift list.
Allocate a budget, keeping in mind all the necessary expenditures.
One should make a list of all friends, family, relatives, neighbours, and colleagues whom they want to give gifts on Christmas.
While deciding the gift, it is important to consider the age and preferences of the recipient. When buying gifts for kids, it should be colorful and attractive that grabs their attention instantly. The gifts for adults should be utility-based or something they want or can use on an everyday basis. Similarly, gifts for senior members of the family should be unique and thoughtful that speaks to them.
In front of the names of people on the gift list, one should mention what they want to gift that person? Where can they find the gift? And at what price range?
In front of the price range, there should be two rows labelled as purchased and packaged. It will help ensure the buyer that the gifts are purchased and packed nicely for every person on the list.
Classic Gift Ideas for Christmas:
Cakes- No one has ever said no to cake. After all, cakes are the source of happiness baked with simple ingredients. As a Christmas gift, cakes always stand out and let people take their taste buds for a heavenly ride.
Home Décor Items- For a home décor enthusiast friend or loved one, appealing home décor items would make an excellent Xmas gift. Ranging from wall art, scented candles, designer cases to fancy bookends, there are plenty of home décor gift ideas one can choose for Christmas gifting and help their loved ones to add festive cheer to their homes.
Personalised Gifts- Personalised gifts are the most thoughtful options when one wants to show how much they care for their loved ones. Engraved with the name of the recipient, personalised items make long-lasting gifts that people can treasure forever.
Gourmet Hampers- Christmas is the season to make merry and feast on delicious food. One can choose gourmet hampers for Christmas gifting. The gourmet hampers are loaded with exotic edible items, juices, wines, and cheese that are sure to make Christmas celebrations special for the recipient.
Plants- One can add on to the greenery and flowers around the holiday season by gifting plants to their friends and loved ones on Christmas. The fresh and green plants will add cheer to their homes even during the chilly days of December.