Everything You Need to Know About the Japanese Art of Flower Arrangement: Ikebana
Author:

Anushka

Published:

23rd September, 2021
People all across the world are intrigued by the Japanese art of flower arrangement, i.e. Ikebana. It is a centuries-old Japanese decorative art form that incorporates blossoms, leaves, stems and branches. There is a whole world to discover when it comes to Ikebana. Therefore, we here at Ferns N Petals have jotted down an article that will brief you on the fundamentals of this disciplined art form of flower arrangement. Keep scrolling!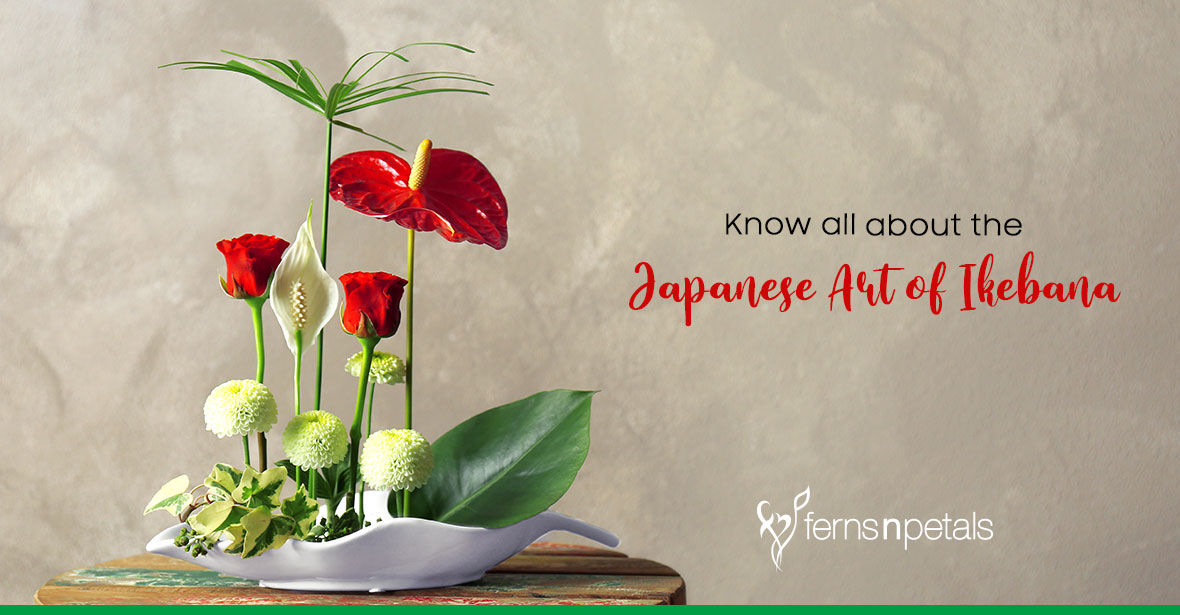 What is Ikebana?
Ikebana is not just about sticking flowers into a vase: it is about the love and need of an artist to create beautiful forms... Ikebana is not just about the flowers, it is about the person who arranges them
- Sofu Teshigahara, founder of the Sogetsu School
In Japanese, Ikebana is made up of two characters - 生 and 花. The first one means 'life' while the second means 'flower'. The term is often translated as 'bring life to the flower' or 'living flowers' in English. The representation of flowers takes centre stage in Ikebana. It is a spiritual process that strives to develop a deep tuning with nature and express emotions.
What are the fundamental principles of Ikebana?
Ikebana requires a sound understanding of silence and space. Therefore, the basic principles of this floral design include minimalism, asymmetrical balance, aesthetics, shape and line, silence, humanity, happiness, space and balance.
Who practices Ikebana?
The Japanese flower arrangement is practised by both beginners and professionals.
Schools of Ikebana
Ikenobo was the first ikebana school that originated around the 15th century by a Buddhist monk named Senno. Ikenobo started at the Rokkaku-do temple in Kyoto, where the Ikenobo family were head priests. The first style of Ikebana was created by the Ikenobo family that came to be known as Rikka. It was the transformation of early Buddhist floral decoration. Here, the flowers were utilised to incorporate the concept of the cosmos. Today, there are roughly 3,000 schools of Ikebana acting on different perspectives, philosophies and methodologies.
Arrangement Styles of Ikebana
There are four main styles of flower arrangement in Ikebana, namely - Rikka (standing flowers), Nageire (three plant groupings that form a triangle), Moribana (piled-up) and Shoku (upright or vertical arrangement). These arrangements don't follow any particular rules and are usually freestyled.