7 Reasons Why Personalised Gifts Make Great Presents
Author:

Apeksha Rawat

Published:

22rd July, 2019
Gifting is a thoughtful gesture embraced by people as a way to exchange wishes and heartfelt messages on special occasions. Gift giving has existed since the origin of life on Earth. It is always an amazing feeling to be at the receiving end of a fabulous gift which also provides a fulfilling experience to the sender that lasts for a long time. The act of gifting becomes all the more special when gifts are as unique and creative as personalised gifts.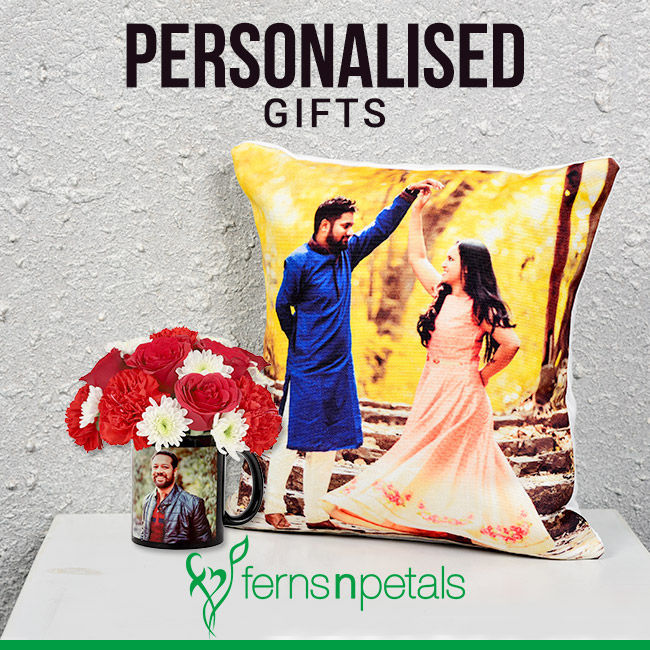 What Are Personalised Gifts?
Personalisation is an art that allows people to turn ordinary gifts into memorable ones that can make any occasion extra special. The personalised gifts are adorned with the name, picture or a short personal message that lets people share their sentiments with their loved ones.
Over time, the unique personalised gifts have become a preferable choice for the gift givers that can be gifted to almost anyone on any occasion. They help nurture relationships, celebrate them and make them stronger with time. Let's have a look at the reasons that prove why personalised gifts make great presents.
Why Personalised Gifts Make Great Presents?
Adorned With a Personal Touch
A personalised gift is made exclusively for a person by having their name or picture engraved or imprinted on a cushion, photo frame, mug, keyring or pen. It lets the recipient know that this gift is specifically made and selected for them after putting much thought and effort.
Can Be Treasured Forever
The personalised gifts are highly valued by the recipient. The ordinary gifts like flowers, chocolates or accessories can be easily forgotten but the thoughtful personalised gifts are treasured forever as a token of love and memory. They evoke happy memories for the recipient that they always hold close to their heart.
Perfect For Any Occasion & Everyone
Be it a small birthday celebration or a joyous moment of 25th wedding anniversary for a couple, personalised gifts make it to the list of every occasion. Similarly, if one wants to woo their love interest on Valentine's Day or want to give something memorable to their grandmom and granddad on grandparents day that features their name or picture, personalised gifts come across as the best choice.
Help Build Stronger Personal Connections
Personalised gifts speak directly to the recipient's heart. They help develop a stronger connection with loved ones that keeps getting better with time. The personalised gift ideas help express the gesture of love, gratitude and appreciation in a unique way that shows the recipient that they are loved and accepted for who they are.
Stand Out In the Crowd
While people opt for traditional gifts like flowers, cakes, chocolates and accessories to convey their love and wishes for their loved ones, one can actually opt for personalised gifts that are sure to stand out in the crowd and grab the attention of the recipient at the first sight.
Give Memories for a Lifetime
Adorned with the precious pictures of a special day or occasion, the personalised gifts allow people to take a dip in the sea of nostalgia and relive memories that once made them smile. It is not just a gift but a galore of memories that one can offer their friends and family with personalised gifts.
Thought Counts
When it comes to gifting- it is the thought that counts. The personalised gifts show the recipient that the sender was thinking about them. They show that not only did the giver choose the best gift but also put a lot of thought and went the extra mile to personalise it. That makes the gift more special and one of a kind.