Know More about Chrysanthemum- The November Flower
Author:

Apeksha Rawat

Published:

30th October, 2019
The month of November is almost here and so is the excitement of people born in this beautiful month. Each month has its birth flower that speaks a lot about the personality and characteristics of people born in that particular month. The chrysanthemum is the November birth flower. It symbolizes joy, optimism, loyal love, and long life. Similarly, the people born in November are attractive, modest, humble, and diligent. The November born are the most loyal people you'll ever meet. They are calm, collected and have their own rules.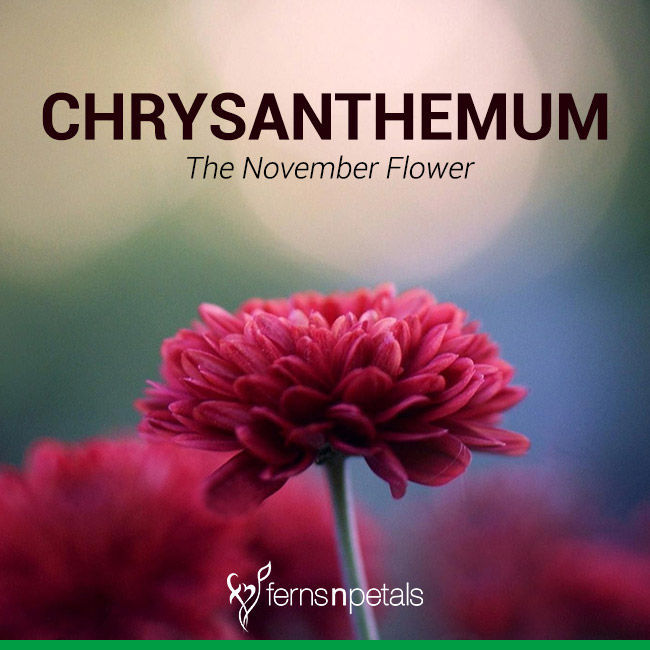 History of Chrysanthemum
Chrysanthemum comes from the Greek word 'Chrys' meaning 'golden' and 'anthemon' meaning 'flower.' The chrysanthemum flower is commonly known as mums and is one of the most widely cultivated flowers in the world. It was first cultivated in China many centuries ago. From there, it migrated across the sea to Japan, where it was cultivated by Buddhist monks in 400 AD. Due to the mesmerizing beauty of the chrysanthemum, it quickly became the official flowers for the Japanese emperor's crest and official seal. Every year, Japan celebrates National Chrysanthemum Day, which is also known as the Festival of Happiness. In the 17th century, the chrysanthemum made its way over to Europe, where Carl Linnaeus, the father of taxonomy derived the name 'chrysanthemum.'
Chrysanthemum Flower Meanings
The chrysanthemum is one of the most colourful flowers that bloom in fall. Even during the grey and dreary winters, chrysanthemums signify beauty and joy. During the Victorian era, people used chrysanthemums to show friendship and well-being. Similarly, Buddhists use chrysanthemums as offering to emit powerful Yang energy. In Australia, chrysanthemums are the official flower for Mother's Day due to their nickname 'mums.' Similarly, in China, these flowers are offered to elderly people to wish them a long life. Likewise, in Belgium & Austria, chrysanthemums are used as a memorial flower and placed on graves to honour the deceased loved ones.
Chrysanthemums come in a variety of different colours where each shade holds a different meaning.
White chrysanthemums symbolize purity, innocence, and loyalty. It can be gifted to loved ones on special occasions.
Red chrysanthemums define deep and passionate love that is perfect to say 'I Love You' to a special someone on romantic occasions.
Yellow chrysanthemums signify happiness and joy that can make anyone's day much brighter and full of happiness.
Pink chrysanthemums symbolize love and romance that would make brilliant flowers to surprise the partner or beloved.
Interesting Facts about Chrysanthemum
Chrysanthemums are the gorgeous flowers, which belong to the list of noble flowers that includes bamboo, plum, and orchid.
According to the legends, drinking from the stream that flows between Chrysanthemums brings long life to people. Therefore, in pursuit of a healthy and long life, people started making wine and teas using these flowers.
Chrysanthemum tea is considered a good cure for cardiac and vascular disorders and prostate cancer.
The petals of chrysanthemums are used in dishes for a good taste and pleasant aroma.
Chrysanthemum is also used to treat fever, cold, headache, dizziness, and swelling.
Chrysanthemums contain a chemical called pyrethrum, which is a natural bug repellent.
A study by NASA suggests that chrysanthemum plants help reduce indoor air pollution.
Famous Birthdays in November
Shahrukh Khan (2nd November) – An Indian actor, film producer, and TV personality referred to as the 'Badshah of Bollywood.'
Amartya Sen (3rd November) – He is an Indian economist and philosopher who was awarded the Nobel Memorial Prize in Economic Sciences in 1998 and Bharat Ratna in 1999 for his contribution to welfare economics.
Sania Mirza (15th November) – She is a famous Indian tennis player who has won 6 Grand Slam titles in her career.
Indira Gandhi (19th November) – She was the first and to date the only female Prime Minister of India.
Arundhati Roy (24th November) – She is an Indian author known for her novel 'The God of Small Things' that won the Man Booker Prize for Fiction in 1997.