Vertical Gardens- Your Answer to Space Crunch
Author:

Apeksha Rawat

Published:

8th July, 2019
There are no gardening mistakes, only experiments. - Janet Kilburn Phillips
Growing plants is a great way to add beauty to any living space. They add vibrant colors to the garden and fill the environment with soothing and welcoming vibes. In old times, there used to be a garden in every household where people used to grow bright and beautiful plants. Due to urbanization and crunch of space, people no longer have the luxury to create a garden in front of their home. Their passion for gardening has restricted to growing plants in small planters or pots in balcony, terrace or room windows. The space-saving vertical gardens are a great alternative for sustainable gardening that can last for decades.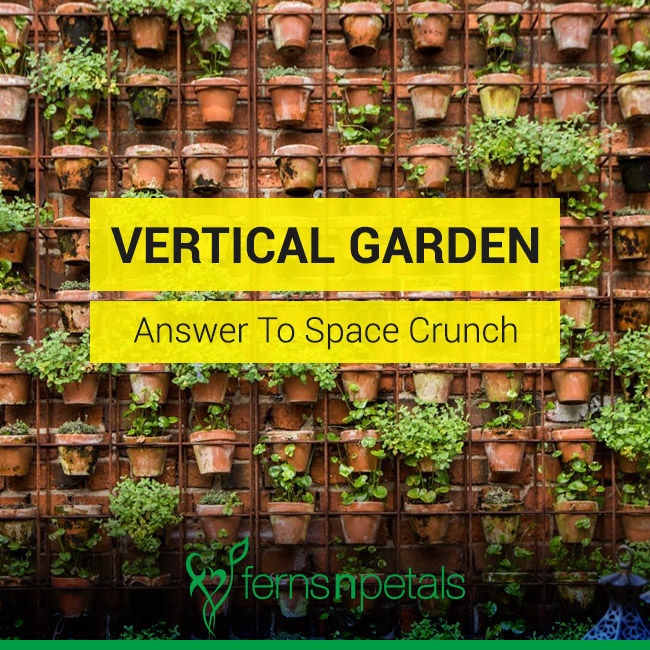 What are vertical gardens?
A vertical garden is an advanced technique to grow plants upward on a vertically suspended panel. These panels can either be self-supporting or attached to a wall. The vertical gardens are a perfect alternative to pot plants at home or offices where there is a shortage of space. Generally, there are two types of vertical gardens:
Indoor Vertical Gardens: These gardens are very space efficient that can fill up the empty spaces on the walls in the house. They filter the harmful chemicals present in the air and promote natural airflow in the homes or offices.
Outdoor Vertical Gardens: They compensate for the lack of open spaces in cities. They can be used to beautify any outdoor area with the greenery that receives natural direct sunlight.
How vertical gardens came into existence?
Known by different names like living green walls, live walls and moss walls, the vertical gardens are not new creations. They have existed for quite a long time and were often used in architectural designs in ancient times. Over time, the vertical gardens have evolved a lot, something that people choose for their homes or offices.
Advantages of Vertical Gardens
They Save Space: Nowadays, there is a lack of enough outdoor space to create a garden. A vertical garden uses very limited space. A large group of plants can be vertically arranged one above the other.
Safe for Gardening: Since the plants are grown off the ground in the vertical garden, it minimizes the risk of pest and protect them from getting damaged by pets.
Create a Protective Environment: The inside air is more polluted as compared to the outside air. Therefore, growing plants vertically creates a protective shield that absorbs pollutants and harmful compounds and provide fresh air to breathe.
They are visually appealing: The vertical gardens look aesthetically appealing. They can turn a simple area into a creative space with the addition of greenery.
Made by Recycled Materials: The vertical gardens can be made by the use of recycled materials like old plastic bottles, wooden stand, baskets, etc.
Ways to Create Vertical Garden
Create a Vertical Garden Using Simple Chicken Wire
This vertical garden is perfect to create in the backyard of the house where one can enjoy some leisure time around the green beauties. Take a chicken wire and attach it to strong supports on both ends. With the help of a metal hook, the clay pots can be attached to the wire. Succulents, ferns, germaniums or herbs can be grown in the vertical garden pots that would create a dramatic entry to the backyard of the house.
Create a Wall of Leaves
Another great way of creating a vertical garden is by using a variety of leaves, which will look like a green waterfall. Ensure to use leaves of different shades of color. It is a great idea to add color to a dark or dull space in the house that needs a makeover. Or it can be created near the main entrance of the house that will create a welcoming atmosphere for the visiting guests.
Create a Vertical Garden with Baskets
An innovative way to give a modern twist to terrace garden plants. For creating this vertical garden, a wooden stand is required with fixed wooden baskets. Fill the baskets with blooming flowers of different colors, which will look quite appealing in front of the neutral background. The wooden baskets can also be used to grow herbs that will create a fresh display.
Ferns N Petals offers online vertical garden planters that are absolutely perfect to enrich the look and feel of any living space and fill it with greenery and fresh air. They also offer services to set up vertical gardens at homes or offices that one can avail online from their website.