Rakhi Gift Ideas As Per Zodiac Sign of Your Brother
Author:

Rima Ghosh

Published:

22nd July, 2019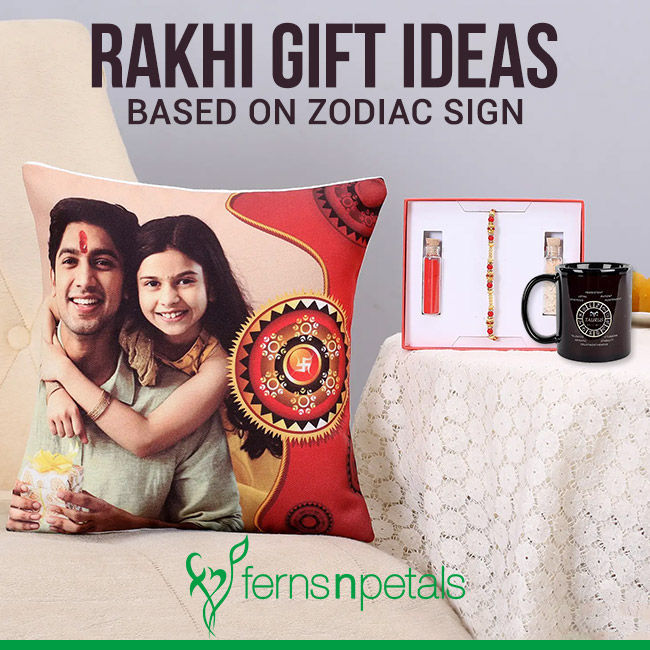 Many believe that the world has only 12 kinds of people because there are 12 zodiac signs. You may not believe in that theory but the characterization of people under each zodiac sign helps in identifying the people better. Zodiac signs help in understanding the personality of people better, their strengths and weaknesses, and also what sort of gifts they might like. The occasion of Raksha Bandhan is a special one and this article is here to suggest the best Rakhi special gifts for brothers based on their zodiac signs.
Find The Best Rakhi Gifts For Your Brothers- As Per Zodiac Sign
Aries: Aries have a strong personality and believe in hard work. They are truly an inspiration for others around as they never fail to give 100% for everything in life. They are very enthusiastic, adventurous, and sporty. They can turn any boring situation into a fun and exciting one. Aries is always appreciative of all the little things in life. His courage is something one cannot break.
Rakhi Gift-You may pick up a new backpack for their next trekking event or a cool pair of sunglasses or a new mobile phone or a brand new sports shoe.
Taurus: Taurus is a static sign – the people with this zodiac are always hesitant to move or change. They love the simple things in life and have a stubborn mind. They are also quite artistic, generous, and loyal. Taurus stays simple but has a keen eye for beauty and luxury too.
Rakhi Gift: A new branded perfume, gourmet gift basket, car accessories, or an outing at a scenic location would be a perfect Rakhi gift for your brother.
Gemini: Gemini people are very talkative and friendly. They truly die to get information from people and then spread that news. Gemini men are quick-witted, smart, and adaptable to their surroundings. They love to be among people and cherish knowledge coming from all directions.
Rakhi Gift: The latest book, any latest gadget, travel accessories, or a collection of song or dance numbers of his favourite artists would make a wonderful Rakhi gift for Gemini brothers.
Cancer: Cancer people are caring, compassionate, energetic, and emotional by nature. They are always calm, gentle, and generous towards people they love the most. They observe things very closely and thus have a wonderful intuition which hardly goes wrong.
Rakhi Gift: They would love something handmade from you or you can opt to take them out in some fancy restaurants as they are hardcore foodies.
Leo: They are born leaders and they deserve to be right on the top of the game. They are very hard-working, courageous, charismatic, and energetic. Leo is never too tired to try one more time before giving up. Their body of work and characteristics are an inspiration for everyone around.
Rakhi Gift: A personalised photo album or photo frame with all the beautiful memories from childhood or fine dining or a painting would be the perfect Rakhi gift for Leo brothers.
Virgo: There is no one more dedicated and determined like a Virgo man. Virgo men love order and stability. They carry a strong ability to analyse and judge people accurately. Virgo men carry excellent communication skills and are very loyal people.
Rakhi Gift: They are very practical-minded and thus any gift that makes life easier would be appreciated by them like a blender, coffee maker, dryer, etc.
Libra: The good-looking Libra is always charming and well-behaved to people. They are very patient, hard-working, and compassionate people who would die before hurting others. Libra men love to lead a very balanced and positive life.
Rakhi Gift: A Libra man would love a personalised journal or diary, an expensive and creative showpiece, and some quality travel accessories.
Scorpio: The Scorpio men are intense, mysterious, and sarcastic. He worships knowledge and is mostly found quietly reading books, journals, newspapers. Their intuition is something you simply cannot ignore and they are also very loyal friends. The determined, clever, yet emotional Scorpio men cannot tolerate unnecessary drama.
Rakhi Gift: A digital or DSLR camera, a grooming kit, the aromatherapy candles, a detective storybook, cool shirts, a cap or hat, and sunglasses would be the perfect gift for Scorpio men.
Sagittarius: Sagittarius men are inquisitive and adventurous and thus any new thing excites him like a child. He carries a great passion for all his interests. Sagittarius men also have a great sense of humour and their kind hearts have love for all.
Rakhi Gift: A new wallet or a set of tie and cufflinks, a photo cake, Personalised sipper bottle, etc. would be well-appreciated by Sagittarius brothers.
Capricorn: The intellectual Capricorn carry and calm and a cool head. They are trustworthy and patient. People depend on them as they are great decision-makers. Capricorns are also very ambitious but at the same time, they are also quite grounded.
Rakhi Gift: A customised coffee mug, a big desk sign, a traditional dress, or an antique watch would be the Rakhi special gifts for your brother.
Aquarius: Aquarius men are independent, artistic, and progressive. They carry a liberal mind and put more than 100% in all tasks that they have in hand. Aquarius men love to inspire others. They never go for superficial looks and believe in quality. They also hold memories at high value and cherish the bond they share with their kith and kin.
Rakhi Gift: Any personalised gift would make an Aquarius brother more than happy.
Pisces: Pisces carry a sensitive and caring mind. Pisces men are thus great friends and they attentively listen to the problems of others. They also carry an imaginative and intuitive mind.
Rakhi Gift: Books, paintings, music, floral arrangement – or anything that looks ingenious would be well-appreciated Rakhi gifts for Pisces brothers.